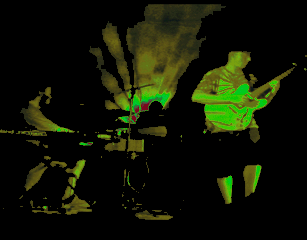 Defined Perception is one of the Midwest's finest progressive jam bands. Hailing from Carbondale, IL, Defined Perception has a way of energizing audiences with their array of complex writtens along with the good time jams and unforgettable covers that pay homage to the love of music that is Defined Perception. Feel free to browse the site, download flyers, music, or anything else you can find around the site! To contact DP please send an email to definedperception@yahoo.com

MP3's:
VIDEOS:
"Trance" - The Copper Dragon,
Carbondale, IL - c2006
"Right" - The Copper Dragon,
Carbondale, IL - c2006
"Waka Winter Classic" - The Hangar 9,
Carbondale, IL - c2007
"Pink Floyd Laser Tribute" - Eureka
Springs Music Park - c2007


Defined Perception will be at PK's on the Strip in Carbondale, IL on March 4th
Show starts at 10pm, ages 21+, NO COVER! ...did we mention it's also Dollar night!
Come the 9th an 10th of April, DP and Spread will be caravaning up to Charleston, IL to showcase the weekend at The Uptowner. DP will open for Spread one night and Spread will open for DP the next night. Expect some crazy jams as we invite each other to sit in on each others sets! TIX avaliable at the door, night of the show, and are $5 for Friday, but if you bring your braclet from Friday to the show on Saturday, you can get in for $3!
The Spring Cave event has released dates, the weekend of April 23rd. No other information has been released yet, but we'll be sure to pass it on.

top

Banned Promotions Interview: Tuesday, July 03, 2007
Banned Promotions Interview, Cape Girardeau, MO - Tuesday, July 03, 2007
for original page visit the following link: http://www.bannedpromotions.com/definedperceptioninterview
BP: Hey guys, how's everything going?
SK: Pretty Good.
JP: We all just woke up. It's like 1:32 pm.
SK: Things have been great though. Tonight is Carbondale's first Sunset Concert
of the series for the summer. Free music in a park! We're definitely checking that
out.

BP: For those who haven't caught a live set, tell us what we should expect when seeing a Defined Perception show?
PK: Alot of high energy, alot of dancing. If you're not dancing, you are actively listening to the music.
JP: Everyone will find something at our shows because we mix everything together.
SK: Beer.

BP: Haha, when's your next show? Just kidding. Ok, I'm not going to ask you to describe your music, but I read where an

Illinois newspaper once dubbed the group as "progressive art rock". Do you agree with that assessment?
JP: Absolutely, it's the closest [description] to come to what [genre] we are.
JB: Our style is definitely progressive. Being a conglomeration of several different styles, the content of our music is the focal

point of our recordings and live performances; utilizing rock music as an art form.
BP: So, DP recently played their first Wakarusa gig. Tell us a little more about that, and also, how did it go?
SK: I had a blast. It was a great time. We encountered a few technical problems during our set, but everyone did what they

could and we pulled it off. I was happy with the amount of familiar faces I saw in the crowd.
JB: Despite the hurdles during our performance we got a great response from the crowd. I saw so many of my favorite

performers, and got turned on to quite a few new bands I'd never heard of.

BP: Who have been some of your favorite bands to jam with?
JP: As far as festivals and show swaps, we've been sharing headlining spots with Madahoochi, The Station, and Cornmeal.
JB: We love having our friend Matt Creed come out and play guitar with us. Matt Hines from C-dale's Jobu has treated us

with some of his shredding as well.

BP: I saw you guys once in Cape, and I gotta say - each of you are incredibly talented. Tell us briefly about your background

in music.
SK: 4 yrs of piano lessons, 2 years of music theory, and a whole lot of drinkin' and jamming.
JP: 14 yrs of guitar playing starting in metal and then switching over to jam band style music and Bluegrass.
PK: Drumming for various punk rock bands. 8 years of drum experience.
JB: Played bass for a few punk and indie bands since 1998. 7-8 years concert trombone.

BP: Didn't I read somewhere that you guys performed an entire Pink Floyd album on stage? That must have been cool......
PK: Yeah, we did that a few times, and it was cool. And we had laser lights, so it was extra cool.
SK: I agree. I only wish I could have been out in the crowd watching the show while I was playing!

BP: What have been some of your other personal highlights so far with the band?
SK: Well, the couple Floyd laser shows we did, and of course, Wakarusa. Also, becoming a staple at the Shawnee Cave

music festivals felt pretty good.
PK: Traveling in general.

BP: What are the band's long term goals?
JP: To get on the road; playing over two hundred shows a year. And hit both coasts.
SK: Write about 489 more songs.

BP: Do you guys have a cd out?
SK: We're working on a release date of October 25th. Plans are for a Halloween costume party at the Hangar 9 in

Carbondale, IL for that one.
PK: The album is going to be fully self-produced, using our own recording equipment.
(interview ends abruptly)
BP: Thanks so much for the interview friends! Best of luck to the band!
"Defined Perception defies typical definitions", The Southern Newspaper,
Thursday, September 28, 2006
Thursday, September 28, 2006
Defined Perception defies typical definitions
by ashley wiehle, the southern
CARBONDALE - Just what genre is Defined Perception?
Well, that depends on your perception.
Bassist Josh Beal describes the band's sound as a "fusion of progressive rock, new-grass, Latin, jazz, reggae and techno," but the guys of the Carbondale-based band concede that defining their sound isn't easy.
In fact, they challenge fans and potential fans to come out to Hangar 9 tonight, have a listen and do just that. Defined Perception will be playing at 10 p.m. tonight at Hangar 9 along with local band JoBu.
"Come out to the show and define your own perception," says Steven Kaufman, multi-instrumentalist and band mouthpiece. Kaufman lends his talents to Defined Perception via piano, organ and vocals.
Jesse Payne on guitar, Paul Krajewski on drums and Ryan Beavers on percussion and vocals round out the band that calls Carbondale its home despite the divergent paths that brought band mates to Carbondale Rock City.
However the guys got here, they're grateful it happened.
"I believe I can speak for the band by saying we love it here in Carbondale," Kaufman says. "I mean, the music scene rocks. The entire town is full of college kids dying to have a good time. Also, right to our south we have the most precious thing in Illinois, Shawnee National Forest.
"We also are fortunate enough to have such a productive community radio station, WDBX 91.1. Carbondale is a great town with a good atmosphere. We get smiles everywhere we go."
Four of the band members have had formal music training, and the lone exception is no slouch: Guitarist Payne has been practicing his trade steadily for 14 years.
Defined Perception counts jam bands String Cheese Incident and Phish among its major influences, along with generation-defining acts such as the Grateful Dead, Santana and Pink Floyd. Bands with cult followings such as Bela Fleck and the Flecktones, Weather Report, Particle, Umphery's McGee and Parliament round out the band's shared preference, but really, tastes between members are too various to pinpoint.
"(We listen) to pretty much anything out of the mainstream," Kaufman says. "We don't listen to much 'popular music.' Unless the radio is on 91.1, the radio is not on."
The members of Defined Perception have higher aspirations for the future: They've heard the call of the road and are definitely interested in answering.
"All of us are itchin' to go on the road, see the country and have a blast doing it," Kaufman says.
Still, the band couldn't ask for a more satisfying present.
"As far as the here and now, we'd have to say that the music itself and the crows is what drives us," Kaufman says. "The bigger the crowd, the more intense the show. There is nothing better than seeing people shakedown to what we've worked so hard at."
Tonight's show at Hangar 9 will represent approximately the 50th for a band that started counting its shows only earlier this year: "Do house parties count?" Kaufman jokes. "That'd make the number much higher."
Defined Perception has a lofty goal for its intended audience. The band wants to see only anyone and everyone at its shows.
"If you like music, you will find something you like in our music," Kaufman says. "People who love to dance and laugh and love an amazing crowd full of good people should most definitely come on out."
ashley.wiehle@thesouthern.com
(618) 997-3356 ext. 5807
Defined Perception with JoBu
10 p.m. Thursday, Sept. 28, Hangar 9, 511 S. Illinois Ave., Carbondale; $3 cover; For more information: www.definedperception.com